O'Toole's Harley-Davidson® Poker Run

St. Jude Motorcycle Raffle & Pre-registration Window is CLOSED!
New! Save time and money, and enjoy the convenience of paying by credit card. You can now purchase Motorcycle Raffle tickets or register for the St. Jude Poker Run & Pig Roast online!
Yes! I want to purchase my tickets online.
Take a Chance on New 2019 Harley-Davidson® Street Glide® – Motorcycle Raffle Tickets are sold out!
We highly recommend you purchase your motorcycle raffle tickets online! Tickets are one (1) ticket for $20 or three (3) tickets for $50.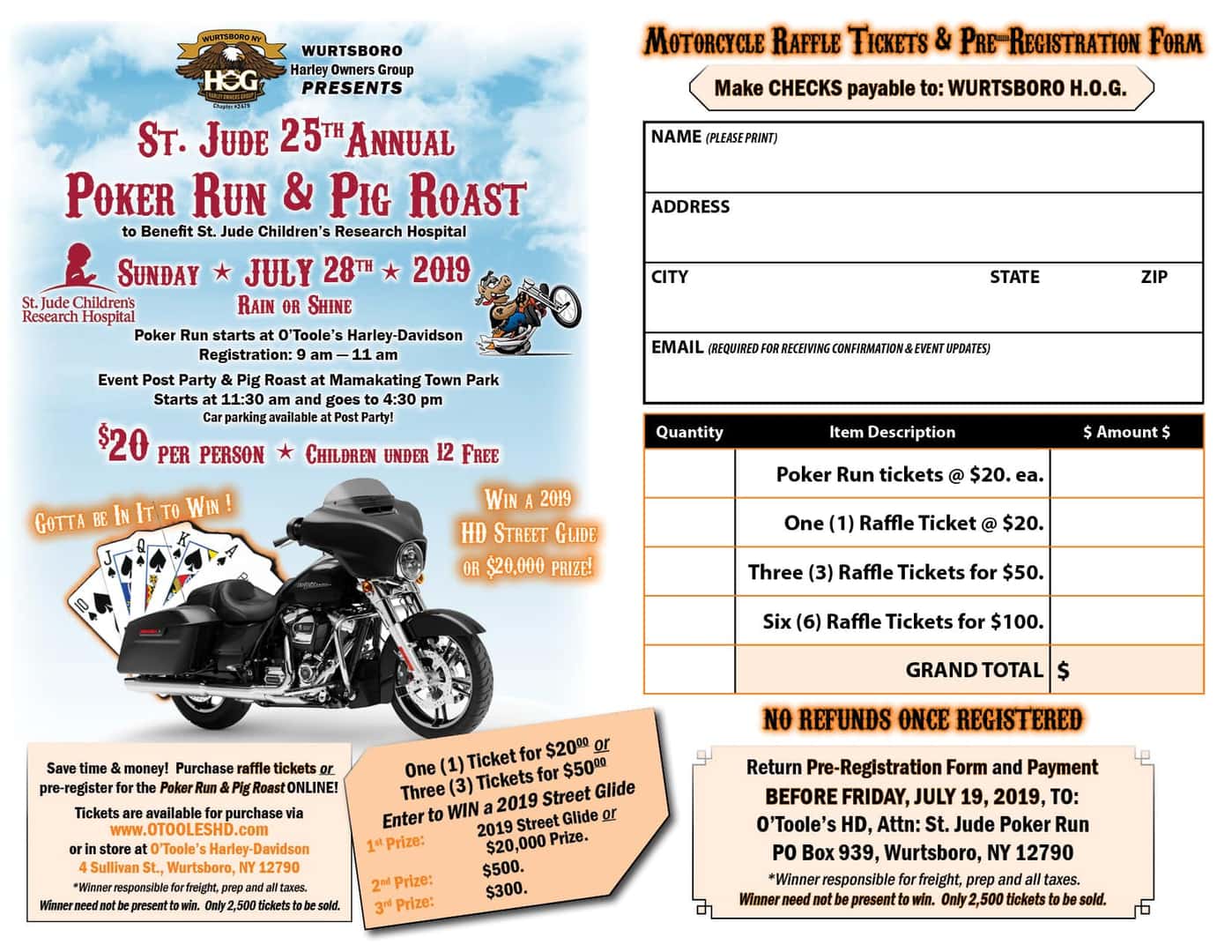 Pre-register for the Poker Run Window Is Closed. You may join us on Sunday, July 28th, 2019,
Pre-register before 7.19.19 – $20. per person to Register online
Please note: No refunds once registered.
I want to pre-register by mail.
To pre-Register by mail: Simply print your own PDF registration form. Please make all checks payable to Wurtsboro H.O.G.®
and return registration form and payment before 7.19.19 to:
O'Toole's Harley-Davidson®
PO Box 939
Wurtsboro NY 12790
Attn: St. Jude Poker Run
Please note: All riders and passengers will be required to sign a release waiver at check in on the morning of the event. The waiver will be required whether you pre-register or not.
Important note for all participants and minors:
Due to requirements imposed by National H.O.G.®, all participants must sign a waiver form in order to participate in the St. Jude Poker Run Event. Parents or guardians who attend with their minor child will be required to sign the waiver form at the event registration. A photo ID maybe required.
Stop by O'Toole's Harley-Davidson® to pick up a registration form today!